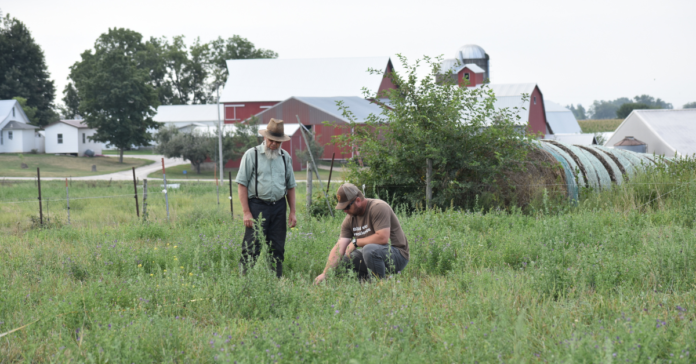 Kalona SuperNatural has a vision of helping Amish and Mennonite dairy farmers around the country. CREDIT OPEN GATES GROUP

Demand for dairy products originating from regenerative agriculture sources — and the environmental and nutritious benefits that come with those products — is surging.
That's Sam Ingersoll's perspective, at least, as marketing director for Open Gates Group, the organizing corporation overseeing a network of companies in Kalona including Kalona Organics, which owns the Kalona SuperNatural (KSN) brand; Farmers Creamery; Awesome Logistics and Awesome Refrigerated Transit of Iowa; Kalona Direct, a small distribution business responsible for popular ingredients at local restaurants like Jimmy Jack's Rib Shack's barbecue sauce and Oasis Falafel's hummus, as well as its role in helping food entrepreneurs develop their brands around the country, to name just a few.
It's a massive endeavor, first started in 2004 when a group of Amish dairy farmers decided to open Farmers Creamery to compete against larger players in the organic milk market, at a time when farms were going out of business or were getting swallowed up by capital-rich businesses that didn't value the land or products sold in the same spirit as the Amish farmers, Mr. Ingersoll explained.
"They found the dairy business is really hard," he explained. "You have to deal with retail stores, you have to use technology. You have to engage in marketing and sales, which was a very different thing for them."
They sold the creamery in 2005 to its current owner, Bill Evans, who was an accountant and consultant with them.
Vertically integrated
Mr. Evans soon recognized small creameries struggle to stay in business against major corporations. To protect the creamery's interests against multinational and venture capital (VC) backed companies, he began to construct a series of companies around the creamery.
"This meant that we could get our products delivered," said Mr. Ingersoll. "We aren't at the whim of an outside company that could raise rates on us. That's how you become profitable."
Small farmers in the U.S. only retain a fraction of the profit for goods sold at a retail store, making it vital for Open Gates to be formed. As Mr. Ingersoll describes it, producers could get 20% of the cut for milk sold at a grocery store, the distribution company gets 20%, the retail store gets 20%, and so on.
Without controlling the supply chain, they were at the mercy of whatever their cut would be.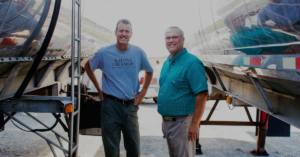 "The product that you see at a store for $10, only pennies may go to the farm," he said. "The producer gets super squeezed. Big retailers and big distribution companies have all the leverage and VC backers have unlimited funds to throw at the distributors and retailers. Those company's products dominate the shelf space."
Owning the supply chain also allows Open Gates to punch well above its weight financially, given that its budget is a tiny percentage of similar health-conscious companies with giant backing.
In 2022, Good Culture completed a $64 million Series C funding round by investment firms Manna Tree and SEMCAP Food & Nutrition, in addition to actress and celebrity brand ambassador Kristin Bell. Good Culture's cottage cheese is in more than 10,000 stores nationwide.
SEMCAP's managing partner John Haugen was an early investor in Good Culture during his time with 301 INC, the VC arm of General Mills.
For some of these VC-backed companies, their ultimate goal is to obtain the market share and then sometimes sell the company again to even larger food conglomerates for a final payday.
"It's really important for small companies like us to survive and the way we've survived is by developing our own farms, developing our own production lines, our own transportation company, distribution company and brand," he said.
From 2018-19, Mr. Ingersoll said the Kalona SuperNatural brand was not performing to expectations, but the success of its other companies provided a buffer for the downtimes. The trucking, logistics and other companies in Open Gates exist as independent entities, not subsidiaries.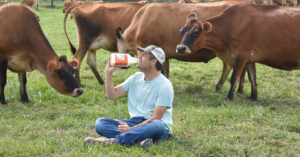 Sam Ingersoll has served as Open Gates marketing director since March 2020. CREDIT OPEN GATES GROUP
"This makes them operate in an aggressive and efficient manner to acquire outside customers, be resilient, and make a profit," he said. "Our bulk ingredient company doesn't just develop diary ingredients for our own brand, but it makes them for outside companies like Love's Ice Cream, helping us survive downturns in different marketplaces.
"We reinvest the profits into expanding the capacity of Open Gates to support more farms, our local tourist economy and other food startups," he added.
SuperNatural effects
Although mostly produced, manufactured and distributed in Eastern Iowa, the Open Gates collection of businesses has its hand in making cheese curds, homemade fudge, ice cream, types of milk, yogurt, cream cheese, butter, and more. These products are picked up in national retailers like Whole Foods and Hy-Vee and in big cities such as St. Louis, Chicago, Minneapolis and Kansas City.
They also work on partnerships with small food distributors who support small food brands and manufacturers. Kalona SuperNatural is sold in all 50 states in approximately 3,000 stores and expanded its presence recently in Florida and the Pacific Northwest, a tough task considering its milk has a 19-day shelf life.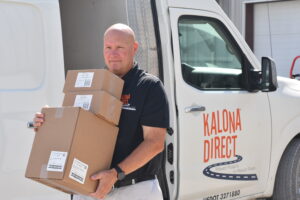 Kalona Direct's suppliers include Wilson's Orchard, Country View Dairy and Bud's Custom Meats. CREDIT OPEN GATES GROUP
Its competitors, who sell a ultra-high-temperature pasteurized milk, can let the product sit for months without it spoiling, giving those companies a large advantage over smaller operations like in Kalona.
"Many of our customers are coming to us from other organic dairy brands because we pasteurize at the lowest temperature allowed by a method called vat pasteurization, and we do not homogenize our milk so the cream is allowed to separate and float naturally to the top," said Mr. Ingersoll. "For our customers, that's a sign that our milk and products are as close as nature intended them to be."
Their products, he said, are increasingly appealing to a "small, booming" percentage of consumers, particularly women and their families, passionate about eating truly organic food for its health benefits. This segment hates government regulations, is interested in the connection between soil health and gut health, and disavows processed foods that they say leads to long-term health complications.
The average Kalona farm has 35 cows, a significant contrast from confined animal feeding operations (CAFOs) that have 1,000-2,000 cows ingesting a heavy diet of grain to produce higher levels of milk in a lifespan of just a few years. According to the Iowa DNR records, there are more than 9,000 CAFOs in Iowa.
"Our cars are milked for 10-14 years, and when they don't produce quite as well they become nurse cows for the calves," he said. "There's a lot of incentive for big companies to not do this when your cows can create two to three times the amount of milk at far less cost.
"That's why conventional milk on the shelf will be $3 a gallon whereas ours is $6," he added, noting that Kalona farms care more about the health of its cows and the environment because of its sustainable practices.
Regenerative ag the right choice?
In January, more than 35 Kalona SuperNatural farms became verified regenerative approved by Land to Market (L2M), a corporation established by the Savory Institute, a world leader in regenerative agriculture.
The L2M designation has prompted Kalona farms to see a huge increase in demand from manufacturers looking for such products, said Mr. Ingersoll. The Savory Institute uses ecological outcomes verification (EOV) that collects data to prove certain practices are increasing or decreasing soil quality and water infiltration over time.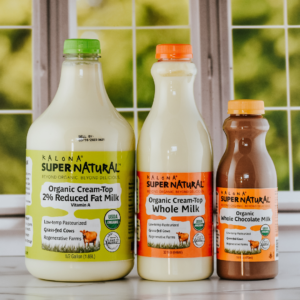 Most traditional agriculture practices use herbicides and pesticides that kill biological life in the soil and pollute watersheds, said Mr. Ingersoll.
"If you kill the biological life in your soil, and you leave your fields uncovered with residue or cover crops, then when it rains the soil washes off into the creeks and the rivers," he said. "You're losing what quality topsoil you have, at a rate of approximately five tons per acre per year."
Organic agriculture stops pollutants from being used, but oftentimes the soil is still damaged.
Regenerative ag takes organic agriculture a step further. It is the process of rebuilding the soil and building sustainable practices while also incorporating organic agriculture. Mr. Ingersoll argues regenerative practices build soil organic matter which sequesters carbon and helps soil absorb water, important when protecting the nutrient value of land, diversity of plant life and improving outcomes in the case of extreme droughts or heat waves.
Practices include the use of real livestock as a more natural fertilizer for the land, the utilization of cover crops and not using synthetic inputs which kill microbes, fungi, worms, and other insects beneficial for the soil.
In addition to the environmental benefits, Mr. Ingersoll said there is evidence attributing processed foods to a variety of health problems.
Recent studies have linked processed foods to a greater risk of cancer, according to several news outlets.
That might set off alarm bells close to home as the Iowa Cancer Registry revealed Iowa has the second-highest cancer incidence rate in the nation, and is the only state with a rising rate of cancer.
More than 71% of global deaths annually are directly related to lifestyle diseases, the Rodale Institute, a nonprofit supporting regenerative agriculture, found. Just 11% of a standard American's diet comes from fruits, vegetables, whole grains, beans and nuts.
"There aren't a lot of food companies interested in doing the research to show that food grown on regenerative farms is more nutrient dense, and creates lots more fatty acids, probiotics, and vitamins and minerals, but the science is emerging."
In September, Iowa State University was awarded an $80 million grant from the U.S. Department of Agriculture to help incentivize regenerative agriculture by encouraging farmers to plant cover crops through direct payments. It is part of a $2.8 billion federal initiative and expands on previous ISU projects.
The regenerative ag movement extends to large corporations.
"I think [regenerative agriculture] has a tremendous but under-tapped opportunity to have a major impact on climate change," says Jim Andrew, PepsiCo's chief sustainability officer, in an NPR article. The company said seven million acres Pepsi owns will be regenerative farms by 2030.
So if regenerative ag is the right decision for farmers, why don't more companies employ these practices?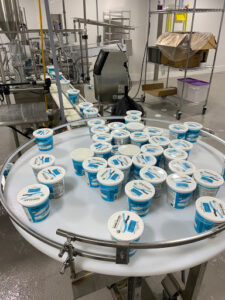 Kalona SuperNatural Organic Yogurt is produced at the Kalona Creamery. Organic milk comes from 100% grass-fed and Land to Market Verified Regenerative farms within a few miles. The organic yogurt has a cream-top and is cup-set in a hot room which allows culturing after the milk is pasteurized – a unique distinction from other yogurts.. CREDIT OPEN GATES GROUP
"One reason is history and tradition of doing it a certain way over the last 50 years," said Mr. Ingersoll. "Farms have to keep using chemical inputs to keep their yields up to make enough money to survive."
He also pointed to sources of funding for regenerative farmers that take time to obtain due to lengthy grant processes, plus there is a natural dip in yield in the initial harvests after switching to regenerative farming. That is on top of new equipment and labor regenerative farmers must account for when switching operational strategies.
Other conventional farms receive subsidies and government-backed insurance that minimizes risk should a farm get wiped out one season.
"Iowa imports 90% of its food," added Mr. Ingersoll, quoting a figure from Iowa State University. "Most of the corn produced is turned into ethanol or food for animals that ends up as heavily processed junk. It drives me bonkers when we hear 'we have to feed the world.' We're not feeding the world. We're feeding ethanol production. Iowa has the richest topsoil in the world, and there's no reason we can't produce high-quality food for people."
According to the Rodale Institute, global adoption of regenerative farming could sequester more than 100% of current carbon dioxide emissions.
Long-term mission
Businesses shop locally for Open Gates' dairy products due to the quality they receive in comparison to larger competitors.
"We have the best milk in the world right here in Iowa and only use the highest quality ingredients at Rodina," said head chef and James Beard Award finalist Samuel Charles. "Kalona SuperNatural dairy elevates our food and drinks."
Sidekick Coffee & Books has used Kalona's milk since day one, saying it's important to source locally and they hear from customers it's noticeable when they run out.
"These companies are mostly owned by people who want to focus on producing food, and when they want to go to the next level in terms of sales, they find out that selling to store chains and having delivery people and trucks is difficult," said Mr. Ingersoll. "They also sometimes have trouble scaling their operation."
Open Gates is continuing with its Small Farms Program, where they work with dairy farms — typically from an Amish or Mennonite background — to make sure they are able to compete in the modern economy.
It also operates the Kalona Creamery that functions as a tourist stop and small store, with a production facility in the back to assist small, local entrepreneurs and where SuperNatural yogurt is made. Formerly known as Twin County Dairy in its heyday, it was known for making more than two million gallons of cheese curds a day.


The Kalona Regenerative Network, affiliated with the Savory Institute, helps train farmers on regenerative ag practices so these techniques will spread, which is a key goal of Open Gates Group moving forward.
Besides looking for a butcher so they can develop a meat locker, the long-term mission is three-fold: help farmers convert to regenerative practices and create a market for their product through the Open Gates supply chain; continue as a hub for small and mid-sized food and product manufacturers while assisting food entrepreneurs; and make Kalona well-known throughout the Midwest as a regenerative farming oasis so people feel connected to farms and the food they eat again.
This summer they hope to launch an agritourism effort, where visitors from cities around the region will be invited to tour Kalona's dairy farms. The initiative — in partnership with the Kalona Historical Village, Kalona Chamber of Commerce, local tourism agencies and big farm organizations — could bring thousands of people per year to the Iowa City area, predicted Mr. Ingersoll.
"They would go into a dairy farm, stop for ice cream produced locally, buy artisan furniture created at one of our farms, and along the way they'd have a narrated tour from a farmer," he explained. "When they go home, we want to give them a way to continue to buy our products."
Mr. Ingersoll said he hears from farmers that towns are losing their identity, where farms are run out of business and young people head to the city for other occupations. Ask a room of 100 farmers how many of their kids want to go into farming and "you might get one or two to raise their hand," he recalled.
"We can change that by developing our ability to farm actual food in a regenerative way, and by developing supply chain infrastructure by bringing people from major cities closer to the source of their food."
Other companies using Open Gates' products or distribution network
Cheryl's Fresh Salsa
Encounter Cafe
Kalona Chocolates
Kalona Noodles
Pearl City Popcorn
Wilson's Orchard & Farm